Pharma Supply Chain Innovation Conference 2023
In October on the 19th & 20th, World BI's highly anticipated Pharma Supply Chain & Logistics conference took centre stage, drawing the industry's most influential competitors to participate in an event that transcended expectations. With an impressive turnout of professionals from across the pharmaceutical and logistics sectors, the conference was a resounding success. The event served as a pivotal platform for attendees to exchange insights, strategies, and innovations that are shaping the future of pharmaceutical supply chain and logistics. At the Pharma Supply Chain & Logistics Event, we explore a spectrum of pivotal topics that are shaping the future of the pharmaceutical industry. The discussions ranged from supply chain management innovations to sustainability practices, with a keen focus on harnessing AI for shipment time prediction. The principles and monitoring parameters governing serialization strategies were explored, while tackling logistics challenges unique to the pharmaceutical sector. The potential of blockchain-based solutions and the evolving landscape of supply chain tracking systems were also discussed. The sessions covered advanced omnichannel routes, temperature control in logistics, and the array of inventory management tools that are revolutionizing the industry. These insightful discussions paved the way for a more efficient, sustainable, and tech-enhanced future in pharmaceutical supply chain and logistics.
World BI's Pharma Supply Chain & Logistics conference proved to be a remarkable gathering, leaving participants inspired and empowered to navigate the complex and evolving landscape of pharmaceutical supply chain and logistics.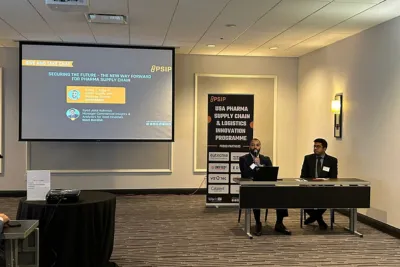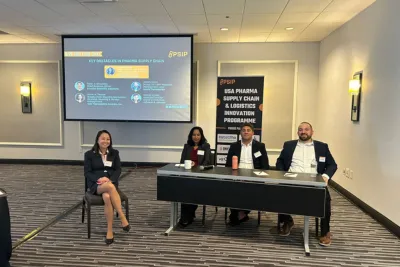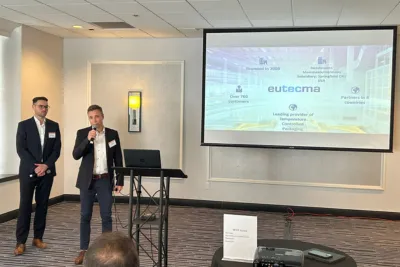 Signature Conference Moments
Here, we unravel the key highlights that made this event an industry game-changer, a source of inspiration, and a testament to the boundless potential of the pharmaceutical supply chain and logistics sector.
Technology Innovation Showcases: The conference featured live demonstrations and discussions on the latest technological advancements and innovations driving efficiency and transparency in pharmaceutical supply chains. Attendees witnessed how emerging technologies such as blockchain, IoT, and AI are transforming the industry.
Industry Insights from Renowned Experts: Esteemed experts and thought leaders delivered compelling keynote addresses and informative sessions on critical topics such as cold chain logistics, regulatory compliance, and sustainability practices. Their insights offered a comprehensive view of the industry's current landscape and future direction.
Engaging Sessions: Hands-on workshops provided a unique opportunity for attendees to delve into practical scenarios, offering solutions to real-world challenges in the pharmaceutical supply chain. These sessions fostered a collaborative environment where attendees could share their experiences and strategies.
Opportunities for Networking: The conference facilitated extensive networking, allowing professionals to connect with peers, forge new partnerships, and exchange ideas. These connections proved invaluable for attendees looking to build relationships within the industry.
Success Stories and Case Studies: Attendees were treated to an array of success stories and case studies showcasing exemplary initiatives within pharmaceutical supply chain and logistics. These practical examples illustrated the impact of innovative solutions and best practices.
The Launch of Groundbreaking Solutions: The event served as a launchpad for several groundbreaking solutions and services designed to address industry challenges. Attendees gained a first look at these innovations, promising to reshape the future of pharmaceutical logistics.
Panel Discussions: Insightful panel discussions covered a range of critical issues, including supply chain resilience, regulatory changes, and global supply chain optimization. These discussions provided a well-rounded view of the industry's evolving landscape.
Q&A Sessions: Interactive Q&A sessions allowed attendees to engage directly with speakers and experts, delving deeper into topics of interest and gaining specific insights into their unique challenges and opportunities.
Recognizing Excellence: The conference also featured awards ceremonies, where outstanding contributions to the field were celebrated. These recognitions motivated industry professionals to continue striving for excellence.
An Inspiring Closing Address: The event was brought to a close with an inspiring address that summarized the key takeaways and emphasized the collective commitment to driving positive change within the pharmaceutical supply chain and logistics sector.
These key moments collectively defined the success of the Pharma Supply Chain & Logistics conference, fostering a dynamic environment where knowledge-sharing, innovation, and collaboration were at the forefront.
Fusion of Experience
Attendees had the opportunity to actively engage in hands-on workshops, enabling them to apply real-world solutions and strategies to industry challenges. These practical sessions equipped participants with actionable insights and problem-solving skills.
Renowned experts in pharmaceutical supply chain and logistics delivered insightful keynotes and shared their expertise, empowering attendees with the latest industry trends, best practices, and regulatory compliance measures.
The event facilitated extensive networking opportunities, allowing professionals to connect with peers, forge valuable partnerships, and exchange ideas. These connections proved instrumental in fostering collaboration and knowledge sharing.
Experts presented groundbreaking solutions poised to revolutionize pharmaceutical logistics and supply chain management. Attendees got an exclusive first look at innovative technologies and services with the potential to drive industry transformation.
The event's emphasis on collaboration, interaction, and the exchange of knowledge contributed significantly to its success. Experts and attendees alike actively participated, fostering a dynamic and inclusive atmosphere that left a lasting impact on all involved, making the conference a remarkable success.
Interactive Sessions and Hands-on Clinics
Breakout sessions and workshops allowed guests to dive extensively into certain topics, allowing for in-depth inquiry and learning.
These seminars promoted active involvement, hands-on learning, and the application of actual solutions to industrial difficulties.
Experts and industry experts led participants through activities and conversations, providing useful insights and recommendations based on their knowledge and experience.
Attendees got the opportunity to network and exchange ideas with others who shared their interests.
With a wide variety of themes to pick from, guests could adapt their experience to their unique interests and concerns, increasing the event's total value.
Prominent Guest Speakers
Jeannie Wong, Arthur L. Edge III, James Costa, Carlos Jardim, Demetrice Tuttle, Syed Jalal Rahman, Martina Fioretti, Aruna R. Tikaare, Vatsala Sadasivan, Peter J. Skoutelas, Pascal Schiller, Sven Rölle & Humberto Vega.
Intellectual Exchange & Potential Ventures
The Pharma Supply Chain & Logistics Conference included an array of networking opportunities, encompassing receptions, roundtable discussions, and informal gatherings, enabling participants to connect and engage in diverse settings.
The event fostered a dynamic environment for attendees to engage in in-depth discussions and share their expertise, resulting in a vibrant intellectual exchange.
Experts and participants explored unconventional innovations, opening the door to potential ventures that promise to reshape the pharmaceutical supply chain and logistics sector.
Collaborative sessions allowed professionals to tackle industry challenges collectively, harnessing collective intelligence to identify new opportunities.
Attendees connected with like-minded individuals, forming partnerships that could lead to future ventures, alliances, and business opportunities.
The event encouraged creative brainstorming and ideation, inspiring attendees to explore novel approaches and strategies for future projects and partnerships.

As we reflect on the remarkable success of the Pharma Supply Chain & Logistics Conference, it's essential to turn our gaze toward the future. World BI is committed to continuously raising the bar, and our future conferences are no exception.
Our commitment to interactive learning remains unwavering. Future events will feature hands-on workshops, collaborative sessions, and panel discussions, ensuring you are actively engaged in knowledge sharing and skill development. The power of networking lies at the heart of our conferences. We're determined to provide even more opportunities for you to connect with industry peers, forge partnerships, and expand your professional network.
As we anticipate the future of World BI events, we invite you to join us on this journey of knowledge, networking, and innovation. We remain dedicated to providing you with valuable experiences and opportunities that enrich your professional life. Stay connected with us, keep an eye on our upcoming events, and be part of the exciting endeavours that await. Your presence and engagement are what make our events exceptional, and we look forward to welcoming you to our future conferences. Together, we will continue to explore, learn, and lead in an ever-evolving professional landscape.
Event Partners
We would like to express our deepest gratitude to our supporting partners, whose steadfast dedication and generous assistance helped make the Pharma Supply Chain & Logistics Event a huge success. Your contributions were critical in arranging this gathering and in advancing our common aims. Thank you for your tremendous assistance.
EverStream Analytics, Catalent Clinical Supply, va-Q-tec, Frontiers Scientific Solutions, Unified Global Packaging Group, Lainpharm, eutecma, Titan Containers & EDGYN (formerly known as Arjo Solutions)
We would want to convey our heartfelt gratitude to our esteemed sponsors for their critical help in ensuring the success of World BI's Pharma Supply Chain & Logistics in October 2023. This event was a huge success thanks to your unwavering commitment to encouraging research and innovation. Your contributions have been critical in fostering collaboration, information exchange, and the pursuit of ground-breaking discoveries in the field of Brand Protection. We are grateful for your support and look forward to continuing on our shared journey to a greater and more interesting future.
As we analyse the main lessons learned from the PSIP Conference and its implications for the future of pharma supply in our next blog, stay tuned for a closer look at these highlights.