The availability of data has completely changed the traditional pharmaceutical industry with the most significant impact being in drug discovery and clinical trials.
However, the biggest challenge is to put this data to use. Pharmaceutical companies have always relied on empirical data in order to identify patterns, test theories and understand the efficacy of treatments. It's time to trust artificial intelligence to share this knowledge with the world.
Medical writers spend a large amount of time creating Clinical Study Reports (CSRs), a time-consuming undertaking that could be better spent on higher-value tasks. Narrativa offers Natural Language Generation (NLG) using advanced artificial intelligence (AI) to transform clinical trial data into Clinical Study Reports.
Natural language processing has many applications and can be used for information extraction, answering questions, automatic translation, speech recognition or the generation of natural language. NLG, along with machine learning, could play a big role in the design of clinical trials and the management of reports.
In addition to the work Narrativa has done over the years in the financial sector, among others, their solutions for the pharmaceutical industry could mean a very big transformation in the field.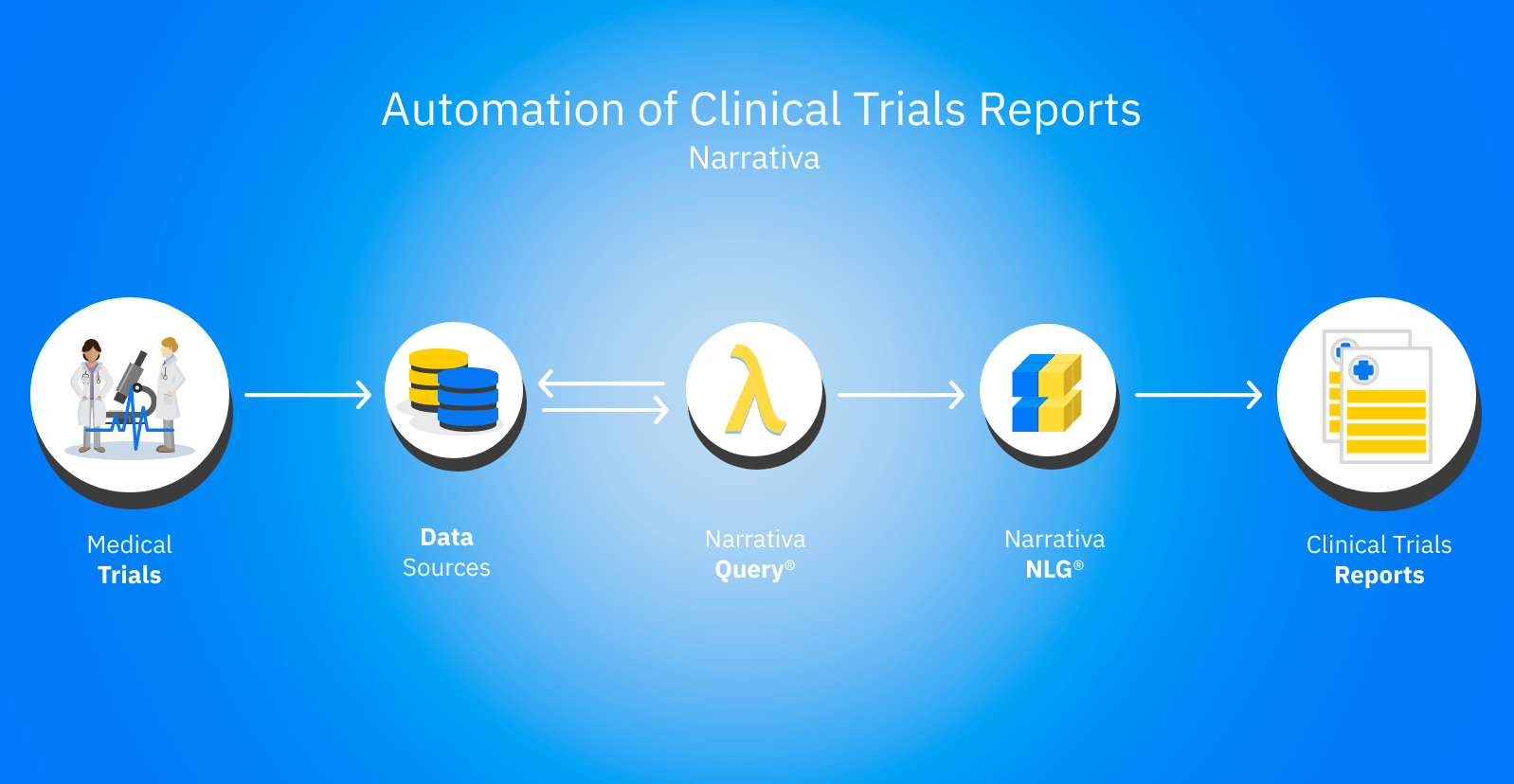 Intelligence automation of Clinical Study Reports
Artificial intelligence can create the document so researchers would only have to transfer the data that is then converted (in real time) into written narratives.
After uploading a dataset, the document is transformed into the actual Clinical Study Report (CSR).
A classification system can be created that allows for the management of references, researchers can know if they have dealt with this topic in previous Clinical Study Reports, or the use of certain drugs, placebos, etc.
They take into account all the factors involved: statistical tests to reject the null hypothesis, confidence interval calculation, risk measurements (relative risk, relative risk ratio) and frequentist approaches among other data augmentation techniques.
Variability and rich language
Their software is specifically engineered for creating quality content in a simple and effortless way. Naturally, they have different ways of approaching the situation depending on the specifics required. they will need a corpus to train our system and adapt it to the style that is demanded; the final result can have variability and rich language or it can be more simplistic. In order to train their technology, corpus size is not an issue, but does depend on the complexity of the documents.
About Clinical Trials Innovation Programme 2022
Clinical Trials Innovation Programme is an invitation-only, premium event bringing together a mix of clinical research professionals and service providers in one stimulating environment.
Join us face to face to learn from the best in the drug development industry and have an opportunity to learn from their experiences. With an agenda covering the future of Clinical trials and drug development post COVID, Clinical Trials Innovation Programme 2022 will feature tailored sessions presented by the leading experts from across the globe.
We are bringing together the best in the industry to help you learn and grow, and accelerate your drug development journey. The experts will include thought leaders and visionaries from Danish Medicines Agency, Bayer Pharmaceuticals, AstraZeneca, The Janssen Pharmaceutical Companies of Johnson & Johnson, Travere Therapeutics, Biogen, Vifor Pharma, Medical Products Agency and much more.