N-SIDE
N-SIDE is a software and service provider that enables organizations in the life sciences and energy industries to make better decisions and optimize the use of critical resources.
We achieve this by combining deep industrial expertise with applied mathematics and AI. We have been an active player in clinical trial supply chain management for over 20 years and have 50% of the top 20 pharmaceutical companies as clients. With our SaaS-based software solutions and expert services, we streamline the clinical supply of pharmaceutical and biotech companies by accelerating clinical plans, mitigating risks, and curbing drug waste. We empower clinical supply leaders to make better, faster, and safer decisions for patients waiting for life-changing medications.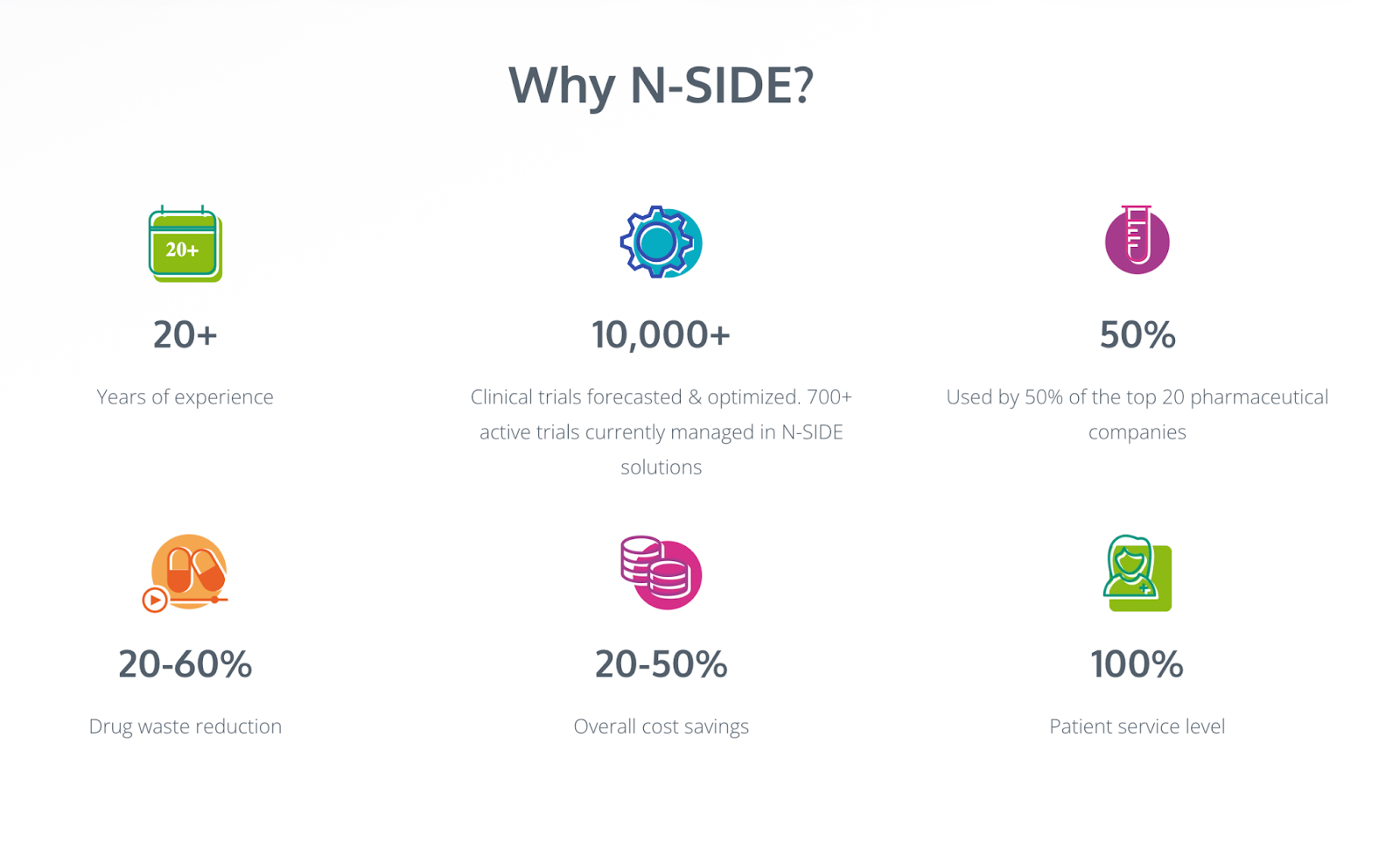 Our Solutions:
N-SIDE Lighthouse allows you to navigate your forecasting and planning to supply your patients with confidence. A single platform for your entire trial portfolio, no matter the complexity. Mitigate and monitor risk efficiently while ensuring 100% patient demand satisfaction. Rely on more accurate patient demand forecasts with real-time information. Seamlessly integrate with your existing systems to unlock unparalleled flexibility.
N-SIDE Supply App is the industry's only solution that adds a risk-based optimization approach to clinical supply forecasting. It allows pharmaceutical companies to make data-driven decisions about overage, packaging, sourcing, IRT setup, depot shipments and more, while ensuring no risk to patient service levels.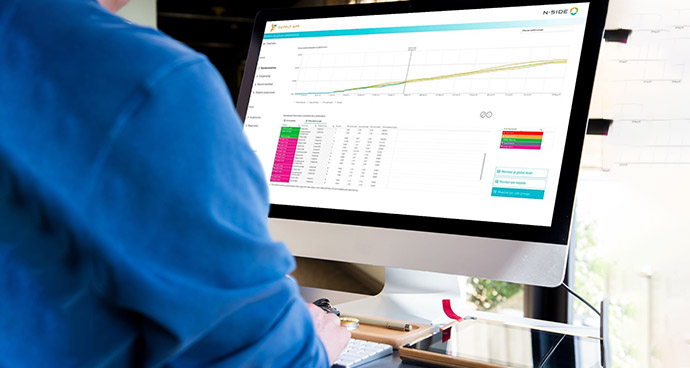 N-SIDE Prediction App is the solution that will allow you to quickly achieve end-to-end program planning. You will be able to easily plan drug substances and drug products for your clinical projects, all in an easy-to-use app that will provide you with rapid results and scenarios.
N-SIDE Professional Services, offered by dedicated experts, streamline the data-driven clinical supply chain by optimizing manufacturing, labeling, and distribution strategies. This enables pharmaceutical companies to reduce trial supply costs by 20-50% across all phases and indications while maintaining sustainability, patient-centricity, and minimizing waste.
Are you ready to elevate your clinical trial supply chain strategies? Join us for a must-attend webinar on November 14th to stay ahead in your CTS planning!
Book your seat now: https://bit.ly/3ZNB02u
Learn how N-SIDE solutions can help you orchestrate your clinical trial supply chain. Contact us today: https://bit.ly/3rBSthT
About Clinical Trial Supply Forum 2023
Clinical supplies (CS) are mostly related to clinical trial supplies, including bulk materials and demand forecasts. During the past few decades, the supplies of drugs and medical devices have had some major challenges. The foundation of the clinical trial supply chain is uncertainty. It is challenging to run the supply chain effectively because variables like recruitment speed, patient attrition, maximum tolerated doses, titrations, and patient characteristics are intrinsically unknown. It's crucial to transmit accurate, current data throughout departments and consider the effects of actions made in one department on each other to produce an effective end-to-end clinical trial supply chain process. Yet, communication can be challenging because these decisions are frequently made by many teams with various goals in various systems.
Today more than ever, manufacturing resources are scarce and drugs are expensive. But did you know that 55-75% of drugs are wasted in an average trial? Not only does drug waste increase your costs; but it also leads to supply bottlenecks that slow down clinical programs. Unused supply delays the initiation of other trials that could have benefitted from having access to it and prevents you from bringing your drug to market on schedule. Stock-outs, which once more may be brought on by inadequately anticipated demand, may occur when there is a lack of consistency in supplies to keep patients taking the study drug.
This could occur as a result of an unexpectedly high initial enrollment rate, which strains the limited drug supply, as well as low production yields, which could delay the supply of comparative drugs. World BI organizing the CLINICAL TRIAL SUPPLY FORUM 2023 in which you can find industry experts and pharma professionals who continue to provide wide plate-form to tackle the most pressing challenges in the clinical trial sector.