Markem-Imaje, a wholly owned subsidiary of Dover Corporation, connects products and protects brands through intelligent identification, traceability and consumer engagement solutions. They offer the industry's most comprehensive range of marking and coding systems seamlessly integrated with trusted software, services and consumables. Over 50,000 customers worldwide partner with them to help them unlock the power of information in codes.
With decades of proven expertise provided through the most extensive global network, they empower their customers to optimize supply chain efficiencies, achieve sustainability and compliance objectives, keep products safe and engage their consumers. This is intelligence, beyond the mark.
Anti-counterfeiting and brand protection solutions
End-to-end brand protection begins on the packaging line with the right code on the right product to deliver real-time supply chain insight, actionable data, and digital connectivity. The ability to utilize packaging as an essential component of an anti-counterfeiting and diversion detection program is crucial to brand security. Their brand protection solutions harness cutting-edge technology and deep supply chain insight to keep products authentic, safe, and connected—from the factory to your customer's hands.
Systech, a solutions division of Markem-Imaje, has led the industry in anti-counterfeiting technology since it first pioneered regulatory-based serialization. They have built on decades of expertise to develop a fully integrated brand protection platform to help you authenticate and track every product, achieve regulatory compliance, and protect your brand.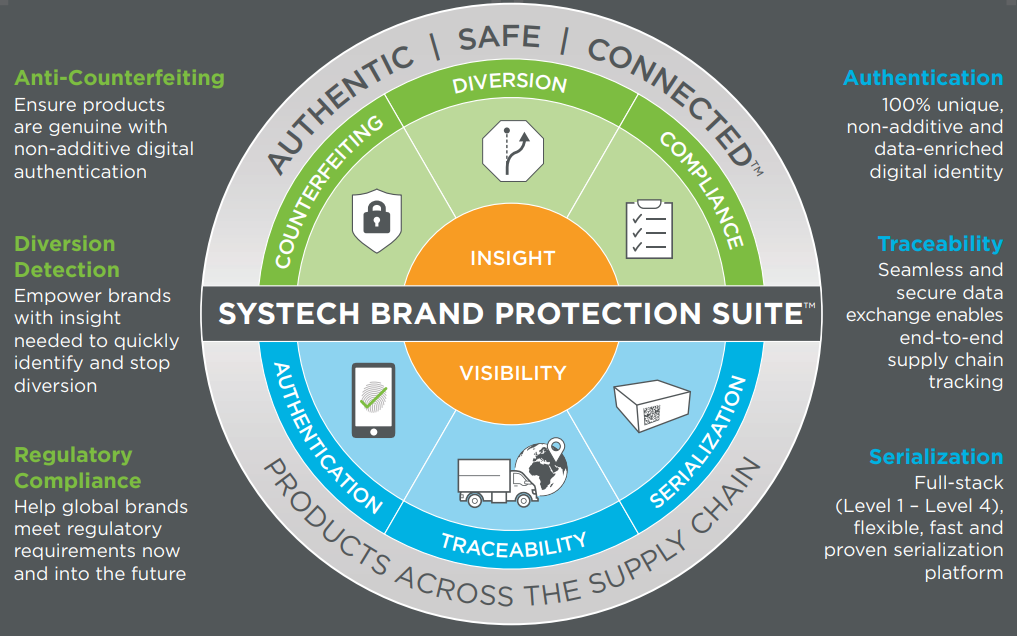 The next generation of brand protection for supply chains
Traditional measures are no longer enough to stay one step ahead of increasingly sophisticated counterfeiters and gray market criminals. It's time to revolutionize brand protection.
Don't fight counterfeiting with yesterday's weapon
Systech is dedicated to innovating the way industries confront supply chain attacks. They push the technology envelope to help you protect your brand, your revenue and—most importantly—your consumers. Systech pioneered serialization, and many of the world's best-known brands rely on them for it today. But serialization is just one key pillar of brand protection. They deliver a powerful and comprehensive solution to keep products authentic, safe and connected across the supply chain—from manufacturing to the consumer's hands.
Revolutionizing Brand Protection
The Systech Brand Protection Suite™ is the only platform to seamlessly integrate the key pillars of brand protection: serialization, traceability, authentication and insight. It transforms a simple package barcode to give brand owners end-to-end visibility and actionable, data-driven insight about a specific product as it moves across the supply chain.
Combat Counterfeiting
Ensure products are genuine with non-additive digital authentication
Detect Diversion
Empower brands with the insight needed to quickly identify and stop diversion
Meet Regulations
Help global brands comply with regulatory requirements now and into the future
Gain Insight
Deliver end-to-end supply chain visibility for real-time decision-making and engagement. Together, their solutions offer the strongest, most cutting-edge brand protection for your products as they move through the supply chain.
Brand Protection Congress 2022
With the global outbreak of COVID-19, high demand for personal protection and hygiene products gave the opportunity to the criminals to take advantage of situation to sell fake products. So, protecting the organization's intellectual property and consumer trust is now more important than ever. World BI is organizing a high-class Brand Protection Conferences which aims to discuss the industry challenges the brand owners are facing and their potential solutions. The topics range from the various online anti-counterfeiting tools and latest technological developments and intermediary liability through to the various methods that brands have adopted to protect their rights.
Speakers from notable companies like Organon, International Policy Executives Symposium/ SGA, Sky Italia, thyssenkrupp Intellectual Property GmbH, Interpol, Danfoss FZCO, Amazon and many more will be joining and sharing their valuable insights.