EDGYN (formerly known as Arjo Solutions), has been working for more than 20 years in brand and product protection, helping companies across industries fight illicit trade, secure their brand and revenue, as well as protect their consumers.
With innovation at the core of their business, what started as security elements for banknotes got transformed first into physical security elements for brands and governments (innovative holograms, superior tamper evident substrates and one of the most secure and convenient security inks) before introducing digital solutions into their portfolio. By leveraging the advances in industrial technologies and their unique expertise in digital fingerprint and product biometry, EDGYN developed and industrialized the most advanced digital authentication solution based on the fingerprint technology. In 2019, EDGYN reached yet another milestone releasing Adfirmia™: A smartphone version of their fingerprint solution.
Today, EDGYN's solutions are used by major international companies in various industries (pharmaceuticals, perfume & cosmetics, spirits, agrochemicals and more) but also governments and law enforcement, by securing ID documents, tax collection and monetary assets.
ADFIRMIA™: As secure as a covert feature, as connected as a QR code
How it works: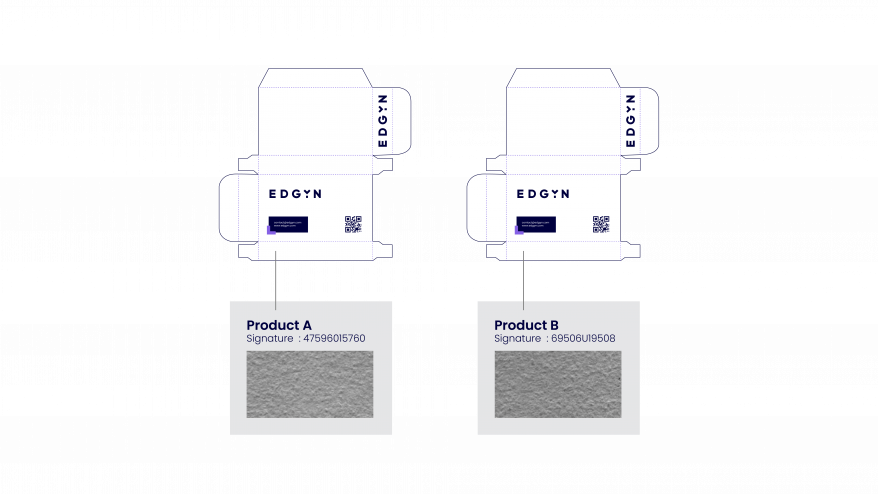 EDGYN's solution for illicit trade is based on the Fingerprint technology. Just like every human-being has a unique digital fingerprint that is used to identify him, ever product naturally has a unique digital fingerprint on the surface of its packaging material that can be used to identify it. While most brand protection solutions aim to add security elements to products to protect them, our solution extracts the security element your product naturally has.
A solution against both counterfeiting and diversion.
To fight against product diversion, our digital fingerprint signature can be paired with traceability data (serial number, batch number, destination market and all traceability event) that is usually encoded in a visible code that is often deleted or copied by counterfeiters or diverters. The digital fingerprint signature can act as a second layer to secure the traceability information by providing a secure access to retrieve the information, identify the diverted product and the point of diversion even when the code is unreadable or removed.
The digital fingerprint solution can also be used as a standalone feature to offer a non-interpretable yes/no answer on the authenticity of the product.
A universally accessible smartphone solution
EDGYN has been developing and perfecting the ideal anti-illicit trade solution since 2006. In the beginning, a dedicated reader was required to verify the product in the field but with the important advancements in the smartphone technology in the past decade, EDGYN saw an opportunity in developing a solution that uses any smartphone as an authentication tool. This allows brand owners to deploy a larger group of brand inspectors and even give their consumers a way to verify their purchase. This significantly increases the amount of data that a brand owner can collect from the field.
This data can then be refined, analyzed, and presented visually in real-time in the EDGYN CARE analytics module to give you valuable insights on your brand protection and marketing efforts, allowing you to react and adapt quickly.
Key Features:
Brand Protection Congress 2022
With the global outbreak of COVID-19, high demand for personal protection and hygiene products gave the opportunity to the criminals to take advantage of situation to sell fake products. So, protecting the organization's intellectual property and consumer trust is now more important than ever. World BI is organizing a high-class Brand Protection Conferences which aims to discuss the industry challenges the brand owners are facing and their potential solutions. The topics range from the various online anti-counterfeiting tools and latest technological developments and intermediary liability through to the various methods that brands have adopted to protect their rights.
Speakers from notable companies like Organon, International Policy Executives Symposium/ SGA, Sky Italia, thyssenkrupp Intellectual Property GmbH, Interpol, Danfoss FZCO, Amazon and many more will be joining and sharing their valuable insights.